Hello,
I am trying to remove the instrument response from a mseed file after merge the data but when I plot the signal after remove the response the data is still in count. Can any help me to undestand what i am doing wrong?
This is the code I made. I am new in Python and Obspy so please be kind.
from obspy import read, read_inventory
from glob import glob
import os
import matplotlib
st = read("CW.NMDO.00.HHZ.D.2020.002")
st.merge(method=0, fill_value=0)
st.plot()
inv = read_inventory("RESP.CW.NMDO.00.HHZ")
st.remove_response(inventory=inv, plot=True)
st.plot()
st.write("mseednoresp.mseed", format="MSEED")
st= read("mseednoresp.mseed")
st.plot()
The figure shows the signal before removing the response 1(sac format), 2(mseed fromat) and signal after removing the response 3(sac format), 4(mseed format). Signal 3 is in nm/s and signal 4 in counts.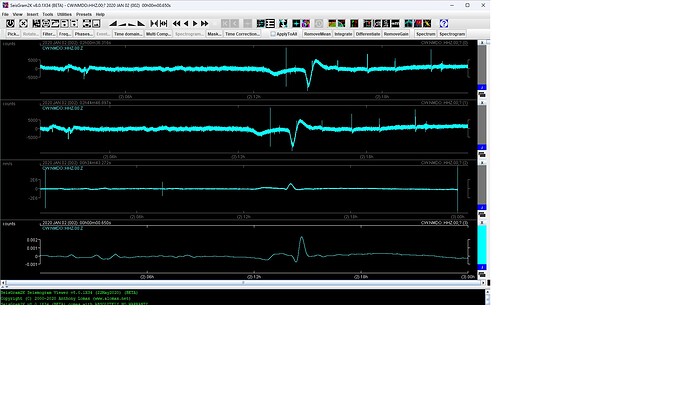 Any sugestion it would help.
Thanks!