Dear Forum.
I have a set of file mseed (from diffent seismic stations) that I'd like to plot in one figure n=only the vertical channels. I did the following code lines:
import os
from obspy import read
import matplotlib.pyplot as plt

st_ = read('*mseed')
fig = plt.figure()
for comp, color in zip(['Z'], ['r','g','b']):
    st_ = st_.select(component=comp)
    st_.plot(show=False, fig=fig, color=color, type="relative")
plt.show()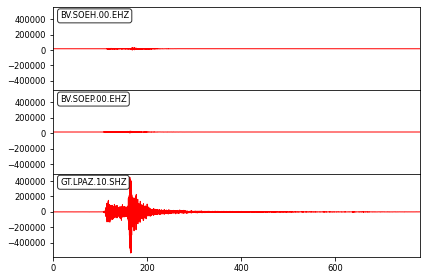 I was able to get the plot, however, the result is not the desired one, the first issue is that I am not able to plot the streams with different colors.
the second, the size, seems that the figure makes an auto scale and attenuate 2 over 3 streams. Attach the figure.
Would you mind please give some tips?,
Stay safe and best regads.
Tonino