I have recently gone from Python 3.10 back to Python 3.9 in order to use Cartopy.
My Py3.10 installation was a pip installation, and has been fully uninstalled.
My Py3.9 installation is using Anaconda3.
My python programs used to run without problems on 3.10, and they still do run well on my laptop with Py3.9 Anaconda installation, but they will no longer run on my desktop since rolling back to Py3.9.
Here is the console output I get: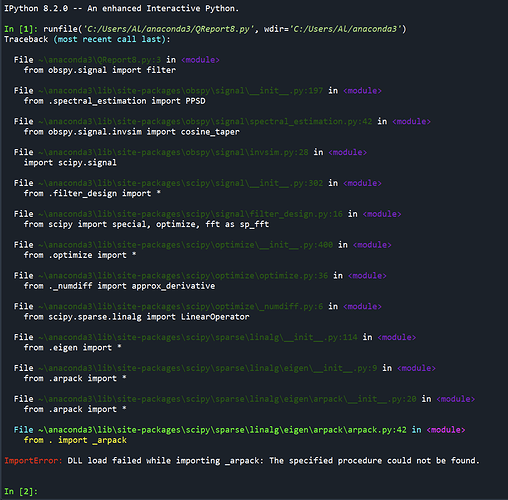 The line "from obspy.signal import filter" appears to be the line in my program that results in the problem when obspy calls scipy.
Any suggestions on how to fix this? I have uninstalled and reinstalled anaconda a couple of times and updated packages as much as anaconda will allow. Seems all OK on my laptop but will not run on my desktop.
Thanks,
Al.